Taking What Mother Nature Gives You
There is nothing better than fishing under ideal conditions.  The weather is pleasant and the fish are biting.   What a pleasure to be on the water!  But what if the weather, the fish, or some other circumstance throws you a curve ball.  While we may try to plan our fishing outings around good weather and when the fish are supposed to be biting, often what we encounter is a different set of circumstances.  Too hot, too cold, too windy or dead calm, the dreaded cold fronts.  Maybe the fish are not where they are supposed to be or not biting.  Perhaps you have an equipment malfunction.  All of these situations are frustrating but they don't necessarily mean your trip is over.  There are ways to adapt and overcome and turn disappointment into a fun experience.
Weather Related Hardships
 You have loaded your gear, packed some sandwiches and filled the thermos with hot coffee.  The boat is hooked up and after towing for some time, you arrive at your destination only to discover four foot whitecaps littering the lake and big waves bashing against the shoreline.  This scenario can make fishing difficult if not impossible.  Boat control would be challenging for even larger fishing boats such as my 21' Lund 208 Pro V GL.  In a 14 foot row boat it would be downright hazardous.  You must assess what your craft is safely capable of and act accordingly.  With a larger rig, I could employ a large drift sock to slow my progress and make fishing possible. When determining whether it is safe to operate your watercraft it is always best to err on the side of safety.
It is never a good idea to venture out into a thunder storm and risk a lightning strike.  Flooded rivers are another potentially hazardous situation to avoid since debris such as trees and even picnic tables, steel drums, and propane tanks can be found adrift in swift currents.  If the water is cold, it increases the danger.  Getting wet in warm weather is at worst uncomfortable whereas in cold weather/water it can be life threatening.  Take this and other factors into account and make sure your boat and motor are in good working order and have all the necessary safety gear aboard before launching your boat.
Sometimes the best solution is to fish the sheltered side of the lake or move to a stretch of river where the wind is not blowing directly against the current.  This may be an area you never fished before because it just didn't look good on your contour map but if it harbors safe fishing conditions, now is the time to check it out. Changing to another nearby body of water that offers more shelter from wind in a particular wind direction can make fishing safer, more productive, and comfortable is another option.  Either way, you will likely be fishing new water.
Once on the water, pretend you are on a search and destroy mission.   Use your electronics to survey the fishable area.  When you find a weedbed, rocky point, dropoff, feeding flat, or other likely fish holding area, mark it on your map or drop a waypoint on your GPS.  Then go back and fish these spots.  More often than not, you will find some success because these areas will receive less fishing pressure since they are not on a map and are discreet.  The odds of some degree of success are actually pretty good.  Fish tend to spread out and occupy all appropriate habitat available and while they might not be highly concentrated you may be able to scrounge up a few. You may even find a real honey hole that you and everyone else have been driving by for years.
You may need to adjust your presentation or use a different method than originally anticipated in order to accommodate for the weather.  It may be a slight adjustment such as using a larger sinker on your Lindy Rig or could involve switching from casting to trolling in order to present your offering effectively.
I recently had such an experience on the Detroit River while fishing for musky.  We intended to cast and jig but when the wind whipped up and a stretch of 'no wake' shoreline separated me from my intended destination, I decided to put out a couple of deep diving crankbaits.  The results were almost immediate as fifteen minutes after we started, my guest hooked and landed a 40 incher.  We got two more muskies from that same short stretch of shoreline that we would have had difficulty casting or jigging.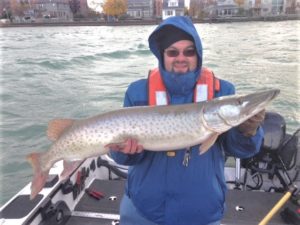 The biggest of the three muskies mentioned by the author, a 43 incher
Fish Related Hardships
 ou may have traditional seasonal trips that can be very productive for a particular species.  Maybe you do well catching northern pike in October casting Daredevles from a particular fishing barge on the Mississippi River.  If you went and tried that in June, you would fail to catch even one.  But even when you go the same weekend every October, some years you slay them, some years not so much.  The reasons for a reliable pattern going awry are varied.  Maybe the weather was unseasonably warm or cold.  The pike may have yet to arrive or have already moved on.  Maybe they are still in the backwaters awaiting the water to cool before they move up to the barge.  Maybe they already left the barge area and are now positioned on the back side of wing dams near deep water.  In either case, adjustments need to be made to contact the fish along their migration route.
Changes in the forage base can have similar implications. On reservoirs, bass typically follow shad into the backs of coves in the fall but if the shad population has crashed, they will be elsewhere feeding on something else.  Could be they are chasing emerald shiners or rooting up crayfish.  Once again, a locational change is necessary as well as a change in presentation.  You have to be willing to experiment with different locations and presentations to get back on the fish.
So, what if you just spent four hours checking various main lake points, river channels, gravel flats, etcetera but have not been able to get on the bass?  Perhaps a change in target species is in order.  The crappies might have invaded shallow brush piles after spending the summer suspended in deep timber or perhaps you caught a walleye on one of those main lake points while casting a crankbait for bass.  It's a tip from Mother Nature to leave the bass for another day and target something else.  If your target species is not cooperating, usually another species is so don't be stubborn.  Get on the bite.
 Equipment Related Hardships
 If you have spent any significant time on the water you will experience equipment failures.  Maybe the big outboard won't start or perhaps your trolling motor batteries never got charged the night before.  These kinds of mishaps certainly are aggravating and they will limit your location/presentation options.  Let's face it, even with careful maintenance and preparation, things happen.  Just because you can't fish where or how you planned, does not mean you need to give up.  Obviously, if the failure compromises your safety, it is not prudent to proceed.  However, if you can navigate to and from the boat launch, you might as well fish.  Using a controlled drift is one possible solution employing a drift sock if conditions warrant.  Adjusting the angle of the big motor affects the direction of the drift, especially with smaller, aluminum boats.  Turning the wheel to the far right (rear of engine toward starboard) with the wind on the starboard side, will cause the boat to drift on a line slightly toward where the bow is pointing.  Conversely, with the wheel turned to the far left and the wind on the starboard side, the boat will drift on a line slightly toward where the stern is pointing.
Making use of what is still at your disposal is the key.  When I was regularly fishing walleye tournaments a few years back, my partner and I faced a difficult situation on tournament day on the Illinois River during an Illinois Walleye Trail event.  It was November and the weather and water were cold.  It got well below freezing at night.  During practice, we used the Minnkota Terrova trolling motor to correct our position while vertical jigging and we also used the Yamaha T8 kicker motor to do some trolling.  We had caught some fish and knew where we would be fishing the following day.  We had rented a slip at a nearby yacht club so we would not have to go through the rigors of launching early the next morning in the cold.  After the start, we proceeded to our fishing spot and attempted to deploy the Terrova.  We were shocked when it would not budge.  Apparently water had gotten into a spot between the shaft and the servo motor and had frozen overnight.  We tried spraying silicone on it and dousing it with hot coffee to no avail.  It was cloudy and was not supposed to get above freezing all day so it was unlikely we would be able to use the trolling motor and vertical jig.  On to plan B:  I tried to start the kicker motor and it would only click.  The water in the water pump had frozen.  I subsequently learned that the water pump/lower unit on the T8 does not drain when trimmed up.  The water in the river was too cold to immediately melt the ice in the water pump so we were dead in the water.
With money on the line, we needed to come up with a plan.  The main engine was still operating but it would not idle down sufficiently to troll effectively.  What we elected to do was to tie a large drift sock to the two forward cleats and deploy it under the boat to slow us down.  This was far from ideal and I had to frequently pop the big motor in and out of gear to keep us going slowly enough and the handling characteristics of the boat were rather jerky.  None the less, we managed to catch four keeper sauger that day which wasn't near enough to cash a check but kept us in the running for team of the year.  I am most proud of that accomplishment in the face of adversity.  We didn't win the team of the year but did qualify as one of the top six teams and received an invitation to Cabela's National Team Championship as a result.